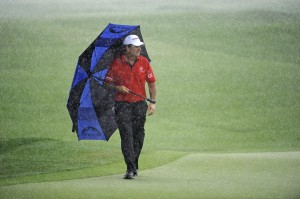 Golfing In The Rain
That is the question. Golfing in the rain is not most players idea of fun golf. Most people will try to avoid it but sooner or later every player finds themselves in the rain every once in a while. When this circumstance arises it is best to be prepared. When you are prepared, you will not worry about the rain and have a clear head to make better shots.
Staying dry is the key when golfing in the rain. An umbrella and a towel is a must. Other rain gear like rain gloves, rain pants, and a rain jacket are very helpful also. If you wear eyeglasses you should have a gortex bucket hat. It will keep your lenses spot free.
Change with the course. When the course starts to get wet and the rain is coming down the course plays differently. The ground is softer so this makes golf shots plug or stick close to where they first hit. This also means that the greens will be slower. The wet conditions will also decrease the spin that you can put of golf shots due to the water on the club face and golf ball.
Solid contact is your main goal when Golfing In The Rain. The impulse to swing harder is normal. Be prepared mentally to handle your thoughts, it will help you make good decisions. With the rain often comes high winds. "Swing with ease into the breeze" is a great way to visualize what is needed for rainy and windy conditions.