SeeMore Putters mean Game Improvement
The benefits of SeeMore Putters and the SeeMore Putting System have paved the way to make Barry Churchill,PGA  one of the top putting coaches in Vermont. SeeMore putters have Riflescope Technology (RST) and it helps him teach his students to win. Students just like you. Hiding the Red Dot improves your setup, aim, and stroke. Forever!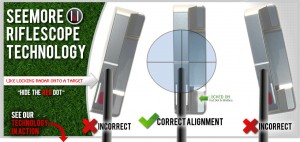 By "hiding the red dot" the golfer implements a system, which leads to perfect alignment, perfect setup, perfect stroke, and perfect roll. It's the same every time. SeeMore putters have won 3 Major Championships. The most recent being the 2015 Open. SeeMore putters have set numerous tour putting records and helped golfers of all levels find greater enjoyment through a consistent putting system.  Most of all, it is a system that can be readily learned by any golfer, and a system that works hand in hand with the fundamental "arc style" putting stroke that so many tour players are using today.
The SeeMore Putter Company is one of the premier independent putter brands in the world. SeeMore putters receive rave reviews from consumers, the media, and the best players in the world for their technology, innovation, craftsmanship, and overall performance. Players use SeeMore putters on all of the world's key professional tours, as well as at college, amateur, and club level tournaments for a few key reasons. First they believe that SeeMore gives them their best chance to play great and win. Second they love the fact that SeeMore builds custom made putters for any player interested, providing the golfer the exact look, feel, and balance that they desire, in any specification they need.
SeeMore has been a revered putter brand for over 15 years. SeeMore originally became recognized when Payne Stewart won the 1999 U.S. Open playing a SeeMore putter in the greatest clutch final round putting performance in US Open History. The brand was re-launched in 2007, and immediately regained worldwide prominence as Zach Johnson used a SeeMore FGP to win the 2007 Masters.
And here is The Ultimate Golf School's personal way of making you an outstanding putter. When you purchase a SeeMore Putter from Barry and The Ultimate Golf School, you will receive FREE putting lessons for life with your professionally fit SeeMore putter. You will be invited to all the Ultimate Golf School's SeeMore Putting Seminars where you will maintain proper grip, set-up, and stroke. You will even learn how to read greens and make those 3 footers! Don't wait another day, contact Barry for a FREE demo of the SeeMore Putter.