Moving to Charlotte, North Carolina
New England PGA Teacher of the Year is Moving"
We are excited to annou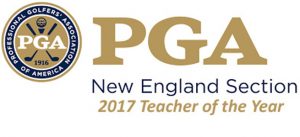 nce that Barry Churchill, the 2017 New England PGA Teacher of the Year will be moving its instruction programs to Charlotte, NC. While staying current with the latest in technology and teaching methods, Barry's passion for improving your game is never-ending. Charlotte's weather and demographics create an ideal setting for Barry to help more golfers play better. As a result, he will be able to work with you all year long!
Noteworthy Invitation
As a result of this award, Barry will attend the PGA Teacher of the Year Conference in Pinehurst, NC. Some of the games most prominent instructors will be on hand to present the latest in instructional information. The 41 PGA section Teacher of the Year recipients were invited to this exclusive event. Certainly making for a room filled with passionate PGA Members that all want to help you play better golf.
Full Year Instruction
Because The Ultimate Golf School decided to take its business to Charlotte, NC, the instruction programs can be more encompassing. The programs are now able to be longer in duration hence allowing you to maintain your skill throughout the year. First of all, you may fine tune your swing with the 3 month  Hogan Plan or improve your entire game with the 5 month Nicklaus Plan. But you are now also able to benefit from the Ultimate Plan  where you will have a full year of ultimate instruction. Improve your full swing, short game, and above all your golf body. Probably the most important piece of equipment you have is your own body.
Barry is proud to be a PGA member where he is currently teaching in the Carolina's Section. However, he will always be fond of the Vermont Chapter PGA and the New England Section PGA with it's fine professionals who voted him as the NEPGA Teacher of the Year in 2017.