Track Your Round to Improve
You need to track your round to improve. That means tracking simple statistics such as "fairways hit", "greens hit in regulation", and "number of putts per green." It's also important to know where your misses go. If you have statistics to show you frequently miss your shots to the right, you know what to improve.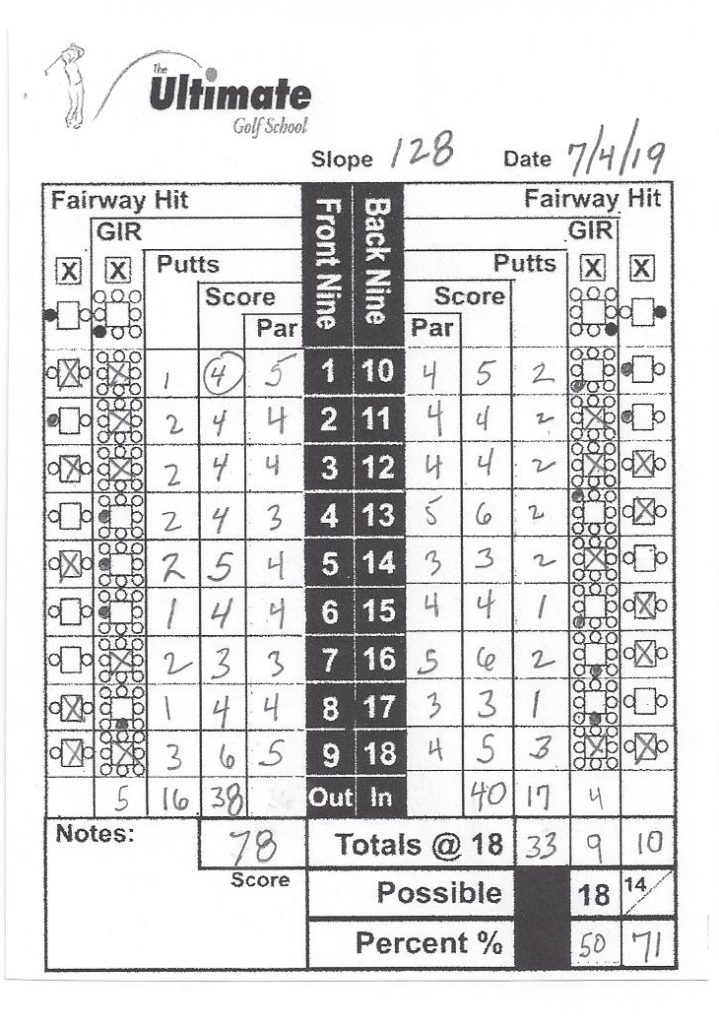 The scorecard above is a simple way to monitor the most important stats. "Fairwats Hit", "Greens Hit in Regulation", and number of "Putts Per Green." Furthermore, you can track where your fairway misses or GIR misses end up. Simply fill in the circle that corresponds with the miss. Look at hole # 10 above. The tee shot missed the fairway to the left. And the approach shot missed the green short and to the left. Above all, when you track your round you have important information to show your PGA instructor. Together you will see trends in your game and know without a doubt what you need to improve to lower your scores.
If you are consistently hitting 70% of the fairways you do not need to work on your Driver as much. If you only hit 50% of GIR, you need to fine tune your approach irons to lower your scores. And I like to see players consistently average 1.7 putts per green. Two statistics above are obvious. First, two 3-putts totaling 33 total putts averages 1.8 putts per green. Second, most misses were left or short and left. So, the next practice session should focus on speed and direction control on the practice green. And secondly, more solid contact with the approach irons.
Know Your Strengths and Weaknesses
As you can see, having the proper information will show you where your strenghts are. It will also show you where your weaknesses are. By knowing without a doubt what your weaknesses are, you can practice properly to improve. Go to The Ultimate Golf School to print your personal Round Tracker.